Aisle-Master is one of the most renowned brands of materials handling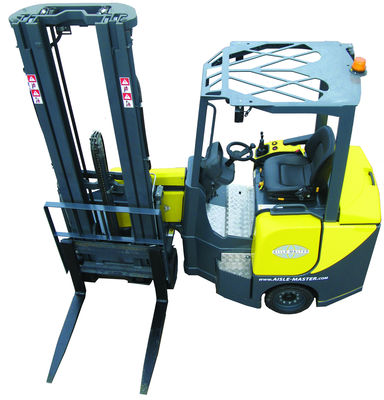 equipment and Ability Handling are proud to supply a wide selection of products from the company. If you need to combine power with practicality then Aisle-Master is often the best solution.
Aisle-Master produce machines that are of special interest to industries which require non-engine powered vehicles, these industries include those related to food and phar­ma­ce­uti­cals. Working with the very best battery-component suppliers in the business, Aisle-Master trucks always ensure the most outstanding performance.
Benefits of using the Aisle-Master electric trucks include:
Extra-long battery life; this allows for longer shifts without interruption, improving efficiency and saving labour costs

Capability of working in confined spaces; Aisle-Master vehicles are able to operate in aisle widths down to 1.6m wide

The range now includes a/c motor control

Cuts down on the number of machines required; the Aisle-Master can go from yard to rack and everywhere in between

No matter how tall your racks, the Aisle-Master can handle it: with lift heights all the way up to 15m

A truly powerful lift capacity means that up to 2.5t weights can be easily lifted and carried
Aisle-Master also produce vehicles powered by LP gas and these are available from Ability Handling. Features include;
3-way catalytic convertors: these have been used on the Aisle-Master LP Gas models since the beginning and continue to provide excellent performance

24/7 operation and no loss of power

Perfect for combined outdoor and indoor usage
For more information on the Aisle-Master range, give us a call here at Ability Handling and speak to one of our experts.