When catering supplier Underwood Meat Company encountered problems with their drivers hitting the drive-in racking with the forklift trucks, Ability Handling provided the solution by supplying three new Doosan B15T-7 electric trucks with modified overhead guards.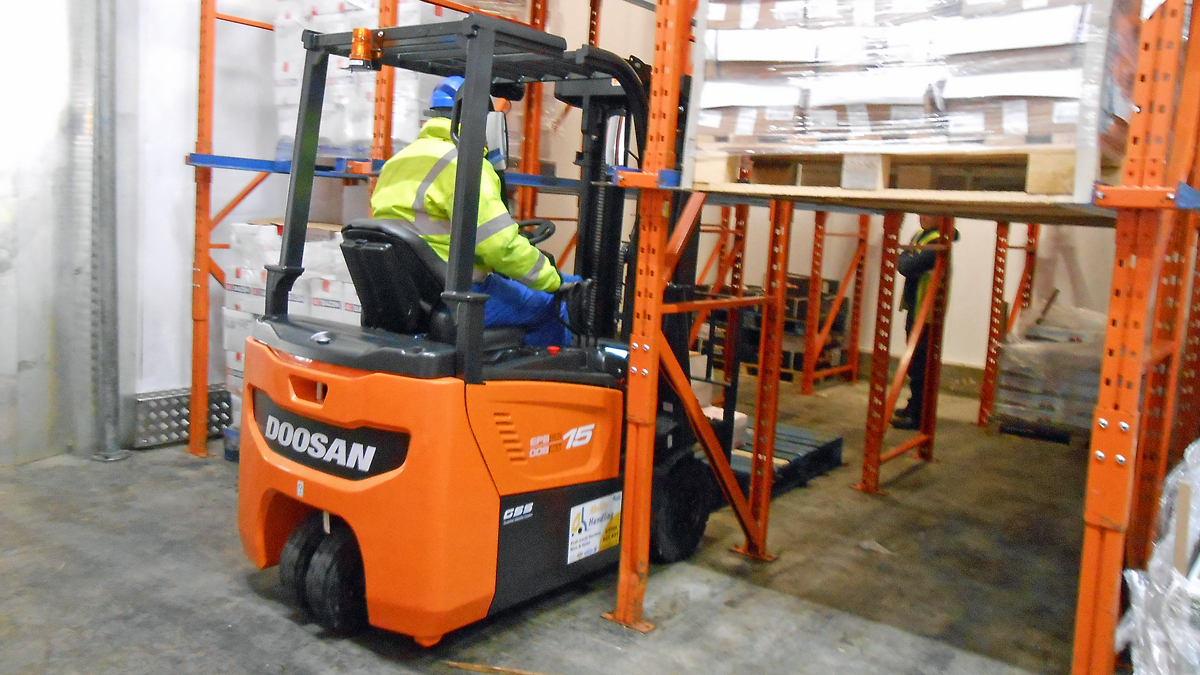 Underwood Meat Company is one of the largest independent catering butchers in the UK and have been operating for almost 50 years. The company started as a small butchery business in the Peak District and has since developed to become a national operation with sites at Rotherham, Chesterfield and Godalming, as well as their own upland sheep farm; Ladywash Farm in the Peak District National Park.
Supplied for use in both the warehouse and the yard, the Doosan B15T-7 is designed to be effective no matter what the weather is like outside. All of its high quality component parts, from the AC drive motors and controller to the professional oil-cooled disc brakes, are totally sealed from the outside environment and are thus unaffected by the elements. The three wheel design of the B15T-7 provides exceptional manoeuvrability around the warehouse and the modified overhead guards significantly reduces the precision needed to enter the narrow aisles between the racks.
When embarking on safety critical modifications like this we always work with trusted partners and in this case we engaged the services of local specialists Hallam Materials Handling. After taking careful measurements of the racking on site, the overhead guard modification was completed and after independent testing to ensure full compliance with all relevant safety regulations, the finished trucks were delivered to site.
Delighted with their new machines, Operations Manager Shaun Laycock was quick to put the trucks to work and the drivers were over the moon with how much easier it had made driving between the racks.
If you want a bespoke solution to your materials handling problem then contact Ability Handling today!