Company
Need more space?
Aisle-widths of just 1.75m
Lift heights of up to 12.5m
Impressive lift capacities of up to 2.5T
Electric or LPG power
Increasing storage, reducing costs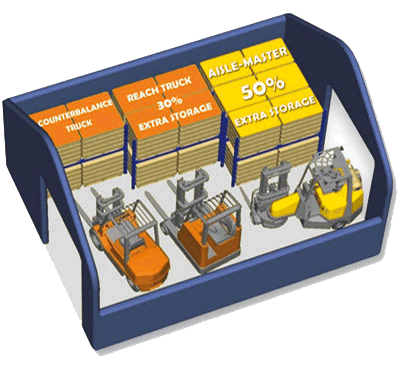 Electric or LPG power 1.5T, 2T and 2.5T capacities
Available in Electric and LPG models
Maximise storage space and enjoy the following benefits:
Versatility
The versatile Aisle-Master Very Narrow Aisle articulated forklift has been designed to replace a number of other forklifts for more efficient offloading, handling and storage. It works as a counterbalance truck for offloading in the yard, and operates in very narrow aisles in the warehouse, replacing reach trucks which need much greater working areas. Using the one truck also increases productivity as it eliminates time consuming double handling and speeds up "truck to rack" operations.
The developers of the Aisle-Master have more than 50 years experience in providing cost-effective solutions to materials handling problems. The production facility in Clontibret, County Monaghan utilizes state of the art design and manufacturing technology.
Rapid growth
Since it was formed in 2000, MD Gerry McHugh has overseen the growth of the company which now has more than 1200 units working around the world in locations as varied as Alaska and Australia.
Global representation
The trucks are supported by a network of distributors and factory trained engineers to ensure service and after sales back up is fast and effective. Components are sourced from leading suppliers with international representation, are easily accessible for routine maintenance or repair, minimizing downtime while maximizing profits.