The winter weather has really started to bite and meteorological reports suggest that it's likely to get worse before it gets better. For most of us, this is bad news indeed but if your business is selling stoves and fireplaces then it's one of the busiest times of the year!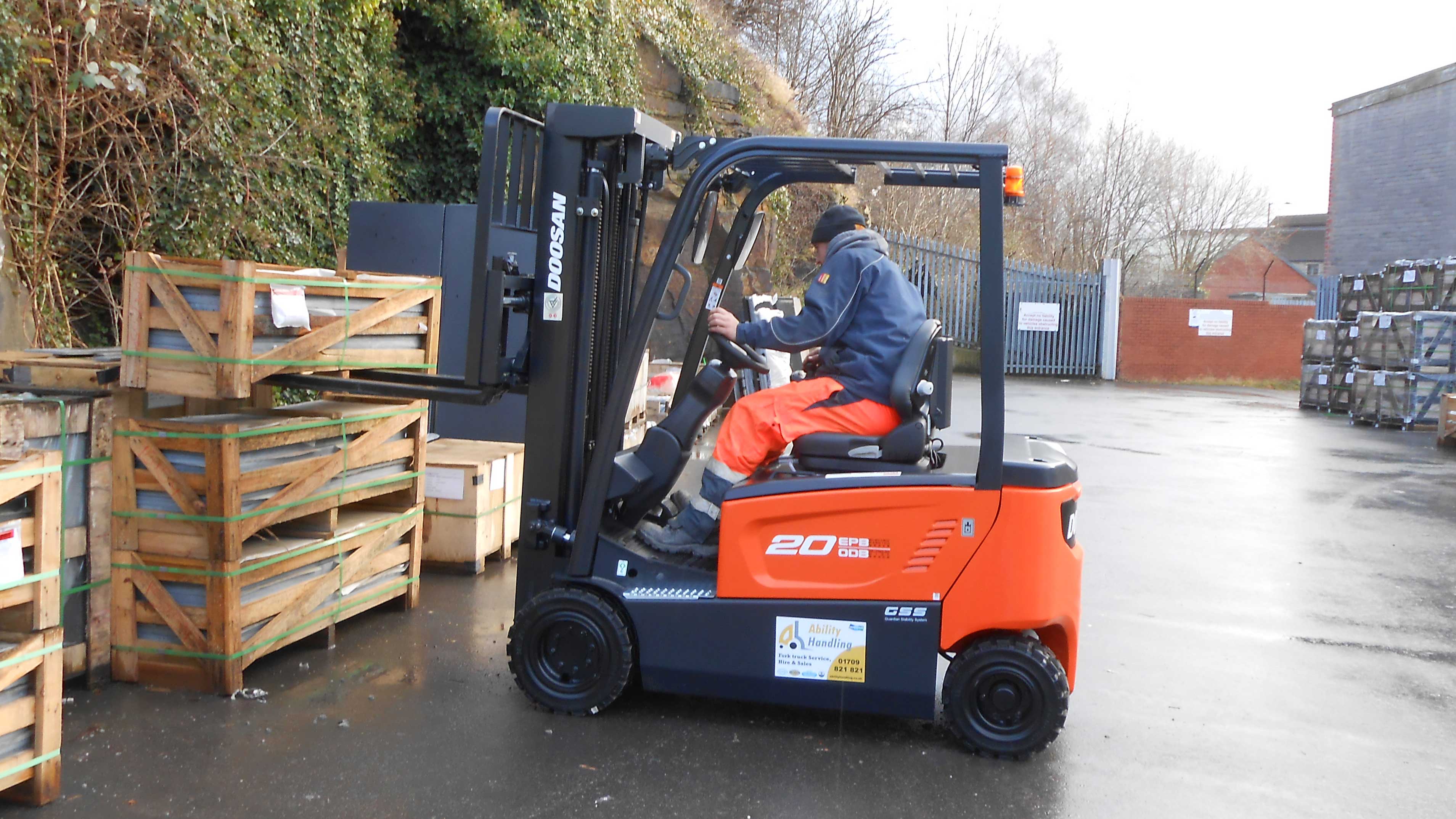 Ability Handling had previously supplied an electric Aisle-Master machine to a local stove and fireplace supplier; the versatile truck vastly improving the company's ability to handle increased demand. The Aisle-Master was so impressive that Mr Atkins, the Warehouse Manager, decided that another electric truck should be acquired to replace the company's existing diesel counterbalance machine.
Mr Atkins got in touch with us here at Ability Handling and informed us of his decision to switch to an electric forklift. He was anxious to ensure that the new vehicle would be suitable for all-weather use and that it would be fully capable of the heavy work associated with transporting products safely and efficiently from the warehouse to the shipping section. Our Business Development Manager, Jim Quinn, completed a site survey to establish all the necessary requirements and recommended a Doosan B20X-7 electric forklift truck as the best machine for the job.
The Doosan B20X-7 is designed to be effective no matter what the weather is like outside. All of its high quality component parts, from the AC drive motors and controller to the professional oil-cooled disc brakes, are totally sealed in from the outdoor environment and are thus unaffected by rain snow, ice and frost.
Mr Atkins said that the new Doosan forklift truck 'ticks all the right boxes', referring specifically to its all-weather construction and low maintenance requirements. He also commented favourably on the lower fuel cost and envi­ron­men­tally-friendly nature of the truck as opposed to his old counterbalance diesel truck.
Ability Handling were able to deliver the truck to the company's premises on the 3rd of January, our first new truck delivery of 2018 and in perfect time for their New Year rush!
Browse the Doosan range on our website and get in touch with us at any time to discuss your company's materials handling requirements.