Platform Trucks
We have a full range of platform trucks to suit all applications, from commercial sites such as hotels and holidays complexes to industrial operations in factories and warehouses.
Being equally at home on or off road, the Hauler utility vehicles are perfect for use around sites with varied terrain. A full range of accessories and modifications are available to tailer these machines to any application, whether that be towing, carrying or tipping loads.
The Shuttle 2 is a golf buggy style machine with a large deck area, ideal for use in lighter applications involving both indoor and outdoor use.
The Titan XD features a rugged all steel chassis and heavy duty drive train for reliable operation in the harshest of industrial environments. The Titan XD is available with a full cab with hinged doors for all weather operation.
All our Platform Trucks can be fully customised with bodywork to suit your particular application including van, cage and tipper bodies.
Efficient and reliable - the "Go-To" vehicle.
Bring a new level of productivity to each workday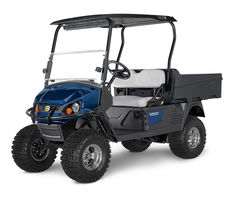 Hauler PRO-X — Designed to get more out of every hour on the job.